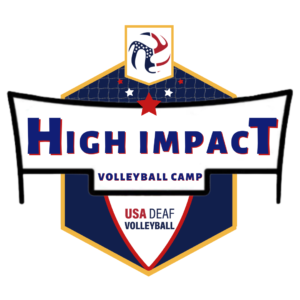 USADVB High Impact Volleyball Camp Quick Info
Who: Boys & girls who are 14-19 years old and have hearing loss.
When & Where: July 5-9, 2023 in Austin, Texas
Price: $300 
Registration: Click HERE    – Deadline: May 15, 2023 –
This camp will be conducted in both ASL and spoken English.
CAMP VISION: Provide a high-level training environment in American Sign Language (ASL) and spoken English for both female and male deaf/hard of hearing junior volleyball athletes who are 14-19 years old. The level of training aligns with the philosophies of the USA Deaf Volleyball National teams and the camp aims to identify high-potential junior volleyball athletes, hone and develop their skills, and create a pipeline for the USA Deaf National teams. Furthermore, the High Impact Volleyball Camp will support and enhance the continued competitive excellence of the USA Deaf National teams.
CAMP CRITERIA:
Must be between the ages of 14-19;

19 and Under: Players who were born on or after July 1, 2003 (high school graduates are eligible)

 

14 and Up: Players who were born on or after July 1, 2008

Varsity athlete

A letter of recommendation from your coach 

A highlight video from your last season*

Volleyball club experience (preferred, not required)

Written or ASL statement explaining why you are applying for this camp
*Certain exemptions will be considered, contact us if you don't have a highlights video
CAMP CAPACITY: 30 – this number includes both girls and boys
We are prioritizing quality over quantity and this cap ensures that we are able to keep the camper to coach ratio low. This allows each camper to receive optimal personalized attention throughout the camp. 
REGISTRATION & FEE:
$300 camp fee covers all meals, accommodation, training, and camp shirt.
Register at the link located HERE
Registration Deadline: May 15, 2023
SCHEDULE: Click HERE to view a tentative schedule of the camp. Schedule is subject to change.
LOCATION & TRAVEL:
Texas School for the Deaf
1102 S Congress Ave,  

Austin, TX 78704
The camp registration opens on July 5th at 3pm and concludes on July 9th at 12pm.
If flying, the airport is Austin-Bergstrom International Airport and be sure your flights:
Arrive before 4 pm on July 5th
Depart before 12:00 pm on July 9th
Transportation will be provided for athletes and coaches on arrival and departure days between Austin-Bergstrom International Airport and Texas School for the Deaf.
Please note: Campers departing Austin later than noon on July 9th may be brought to wait at the Austin-Bergstrom International Airport several hours earlier as our coaching staff will not be available after noon.
CONTACT: 
Please feel free to reach out to our Youth Program Coordinators if you have any questions!
Alison O'Hara, USADVB Youth Program Coordinator – [email protected]
CJ Upchurch, USADVB Youth Program Assistant – [email protected]